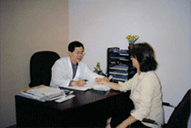 Dr. Steven Liang, a renowned Qigong Master from China, has more than 40 years of experience in acupuncture, acupressure, and traditional Chinese medicine. Dr. Liang is a registered Doctor of Traditional Chinese Medicine and Acupuncturist of British Columbia.
Being an expert in Qigong, Dr. Liang has been practicing Qigong for over 45 years. Dr. Liang teaches Spontaneous Five Animal Movement (SFAM) Qigong, which was originated by Dr. Liang's elder brother Shi Feng Liang as a result of his extensive and intensive experience and knowledge in Qigong practices and martial art education. His students are from different parts of the world - China, Hong Kong, Taiwan, Japan, Indonesia, Australia, England, and Cannada.
On the other hand, before immigrating to Canada, Dr. Liang was the advisor of Guangdong, China Qigong Research Institute, the honorable Chairman of the Qigong Society of Zhongshan University, the Supervisor of Shenzhen Qigong and Acupuncture Research Centre, the Coach of Qigong and Martial Arts team in Asia.
Dr. Liang truly believes that prevention is far more important than cure. Traditional Chinese Medicine is widely used to improve your body's health and well-being, and to stimulate your immune system, so as to prevent the occurrence of illness and disease.
However, the healing process using Traditional Chinese therapies is slow; Dr. Liang would like to give his patients an advice: be patient and have faith in yourself and your doctor.
Why not make an appointment for a preventative Traditional Chinese Medicine health checks with Dr. Liang?
After a thorough check-up, based on principles derived from 5,000 years of Traditional Chinese Medicine research, Dr. Liang will advise you on your body's condition, and on any necessary steps you should take to improve your body's balance and harmony, and improve your health and fitness.